Celebrating the 50th anniversary of the South West Coast Path Association, the Trailblazer Walk covered 630 miles and took 35 days of continuous walking by hundreds of volunteers, supporters, and partners, to reach the finish line at Royal William Yard on 15 June.
Walking 630 miles of the South West Coast Path, Britain's longest National Trail, in a daily relay, was no easy feat, and completing the walk was an unexpectedly emotional moment. As the two walk teams who had started their trailblazing journey from Minehead (12 May) and South Haven Point (27 May) respectively, approached Royal William Yard, two tribes came together to the beat of drums led by Louise Parker and singing from Halfway Harmony in a display of unity and love for the South West Coast Path and the charity that has championed and protected this world-class trail for 50 years.
Walkers paraded into the green with 100 silk flags to complete an incredible display of 500 'Beach of Dreams' silk pennants by internationally-renowned arts organisation Kinetika. The experience for everyone involved was one of overwhelming triumph and happiness at what had been achieved and celebrated. It was a truly fitting and spectacular finale to commemorate the golden milestone of the South West Coast Path Association.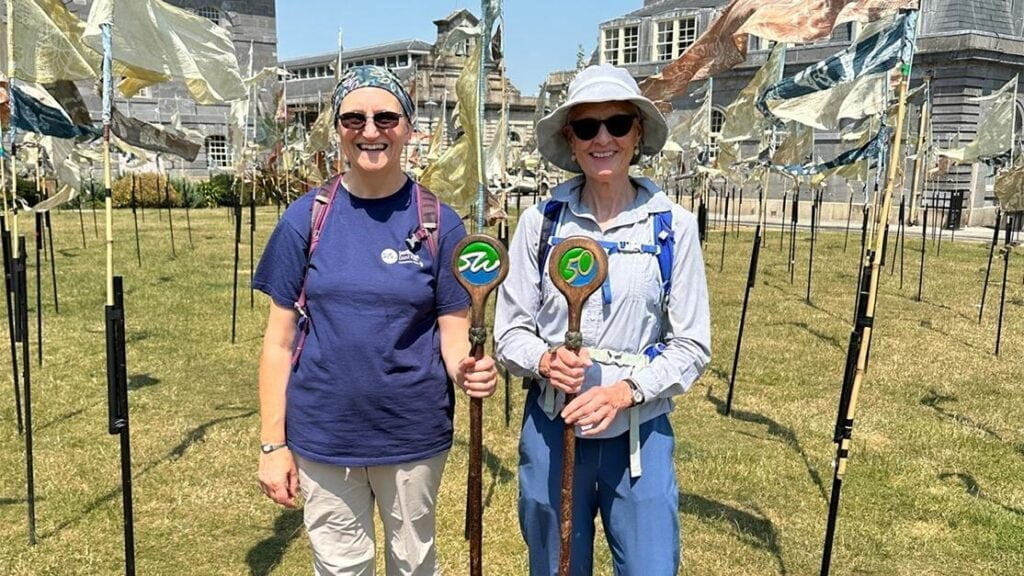 Julian Gray, Director, South West Coast Path Association said,
"The 1,000km Trailblazer Walk reinforces how much the South West Coast Path is a true partnership in action with Local Authorities, National Trust, Areas of Outstanding Natural Beauty, Exmoor National Park and many other stakeholders joining us and sharing their vision for the future of this world-class trail."
South West Coast Path Photographer of the Year Exhibition
Following the finale of the walk the inaugural South West Coast Path Photographer of the Year exhibition opened at Ocean Studios in Royal William Yard. On display from 15 June – 27 July, the photographs have been selected from the annual photography competition organised by the Association. 22 images are on display which showcase the diversity and beauty of the South West Coast Path as well as how climate change is impacting the path.