Dartmoor National Park authority was less than impressed this weekend with so called 'wild campers'. Everyone knows the key rule to wild camping is "Leave no trace".
Basically when you leave the next morning, take everything with you. We have covered on here about how a ban on wild camping on Dartmoor is trying to be overturned, cases like this won't help their case.
The Camping Fire are reporting that this wasn't the case this weekend in Dartmoor. 
Dartmoor National Park put out at statement
" We are very disappointed to see the remains of someone's 'camping trip' on Dartmoor this weekend.
This is NOT backpack camping, and does NOT follow the leave no trace principles we ask people to follow!
This means landowners and Dartmoor National Park Authority are left with the cost of clearing up after you!
To see how responsible backpack campers 'wild camp' please follow the backpack camping code, check the map before you go and leave no trace. Thank you.
As well as leaving a lot of gear behind, they also left their wild camping tent behind which as we know can be the most expensive piece of equipment.
Other social media users were quick to respond.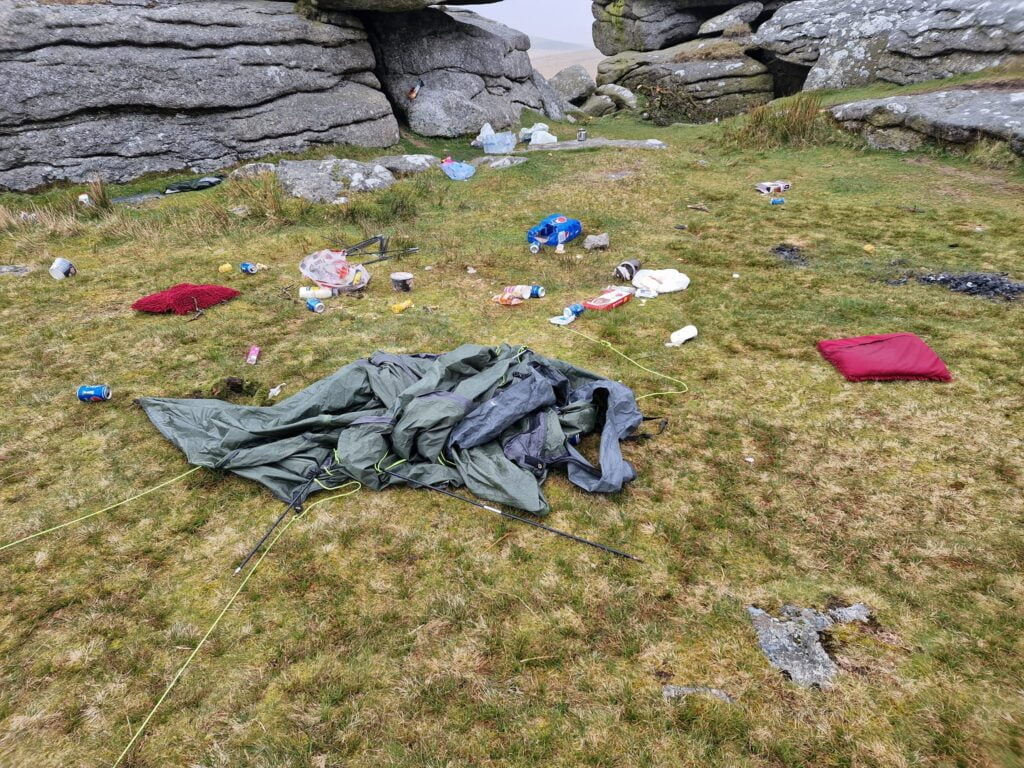 One saying "Disgusting ! Spoils it for everyone who have respect. Should be ashamed of themselves. No doubt they will be protesting about climate change as if they really give a s**t."
Sally saying "This is absolutely disgusting . My son is a wild camper on Dartmoor and he always leaves as he finds clean and tidy and respectful!! Of the natural beauty! This kind of behaviour spoils it for everyone such a great shame"
David making a valid point "It only takes one to ruin it for the rest of us."
This isn't an isolated incident, something similar happen up the side of a mountain in Scotland where a tent and gear was left behind. This can also have real life consequences as mountain rescue teams can be sent out to search for potentially missing walkers. So just take your stuff home.