Williams has followed the lead of both Aston Martin and Red Bull with the trend of super-drilled brake calipers for improved performance on their car. The FW45 used this tech on their last run out in Melbourne and both drivers ran it; this undoubtedly means they're seeing undeniable performance gains from it.
When you compare this "super-drilled" brake caliper to traditional style calipers on the Ferrari car, it can be seen how drilled out the Williams brake caliper is around the area where the pads clamp to the brake disc.
This drilling increases the airflow for the brake disc which in turn requires smaller brake ducts to cool the brakes. Making the ducts smaller gives a significant aerodynamic benefit as the brake ducts create a lot of subsequent turbulent air flow and make the car less aerodynamic.
Despite giving such a huge aerodynamic benefit, there is physically less material in that section of the caliper and it will in turn get hotter since there is less material to distribute and dissipate heat. This is dangerous and could lead to brake failures and fade, however, Williams advanced engineering team has combated this issue by putting pins of material with excellent head conductivity inside the holes to take away part of the heat.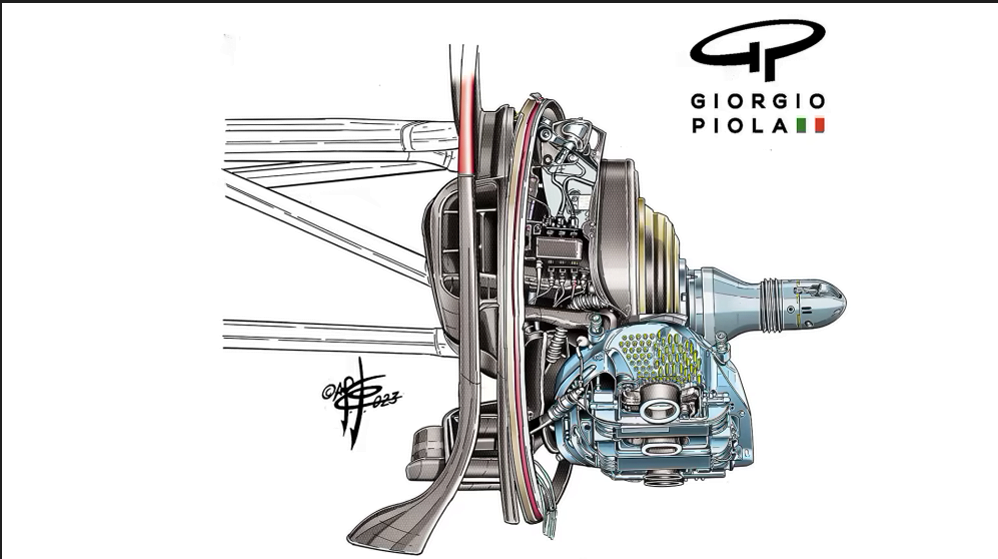 A genius solution by the team, because the team realised that material with good heat conductivity, doesn't necessarily have the strength to be used in a brake caliper.
This revolutionary component saves 200 grams per wheel over the standard undrilled one, this totals up to 0.8kg of weight saving which is very significant in a sport like F1 where marginal gains are everything. This weight being saved overall is good enough but the weight saved is also un-sprung and removing it affects the feel and mechanical grip of the car more significantly.
The design of the brakes and their calipers represent one of the very few areas where the engineers still have free reign over the design and implementation of their design. Designing and machining these new "super-drilled" calipers is an expensive and time-consuming process so you can be sure it's tried and tested now that three teams have implemented it.
Specifically, these revolutionary new components take 8 hours longer to physically manufacture compared to their predecessors, Special equipment is required to drill the aluminium alloy caliper; this cannot be done too quickly as the heat from the drill would warp the material and render it unsuitable for racing. 
The Williams F1 team hopes that this new technology will help them climb the order this season as they are currently last in the championship